2009
Annual Report 2009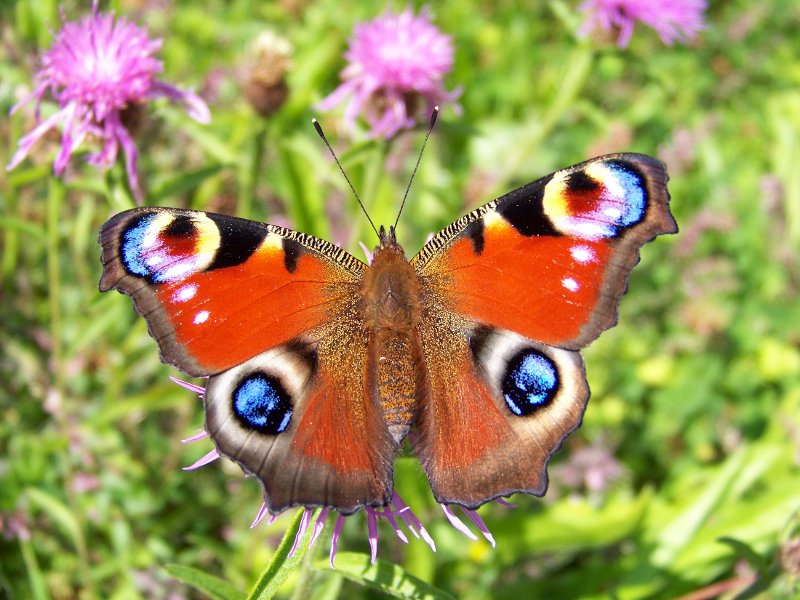 Peacock on Common Knapweed.                                 Photo: J. Harding.
EDITORIAL
Thank you for your support during 2009. Our company accounts were audited and passed this test so thanks or due to our joint treasurers, Michael Jacob and Joseph Harding. Our butterfly reserve's fortunes continue to rise (see account). Let me know if there's any further information you need and please encourage others to join Butterfly Conservation Ireland. The membership fee of €30 is payable in the New Year and reminders will be sent. Yours in nature,
Jesmond Harding (Secretary)
Butterfly Conservation Ireland,
Pagestown,
Maynooth,
Co. Kildare.
Butterfly Season Report 2009
The butterfly season of 2009 got off to a slow start with cool conditions in April and May. The first Brimstone to be recorded in Ireland this year was seen at Lullybeg on 17th of March but good numbers of Brimstone, Green-veined White and Orange-tip were not seen until mid-April. Numbers of Small Tortoiseshell recorded were low with the peak numbers recorded on any site on one day put at 3.
In May the numbers of butterflies being recorded rose in the case of the Green Hairstreak, Green-veined White and Speckled Wood but the totals recorded for many species remained low. Temperatures were also low and this delayed emergence of the Marsh Fritillary with the first butterflies being seen on May 24th at Lullybeg, a week later than is usual for the area.
In June, the weather warmed and much more activity was noted. Early June saw good numbers of Pearl-bordered Fritillaries in various parts of the Burren and smaller numbers of Wall Browns. The most outstanding feature was the mass migration of Painted Ladies, which began to arrive in large numbers on May 30th. It is believed that these were the offspring of butterflies that arrived in Spain from Morocco in March. Many sightings were made at sea and along the coast. The butterflies moved inland and bred. A home-grown generation emerged in July and these appear to have reproduced quickly, producing another build-up of Painted Ladies in late August and September. At the time of writing (6/11/09), Painted Ladies are still being recorded in coastal areas. These are probably preparing for reverse migration to North Africa from where their ancestors departed. The Red Admiral also enjoyed a good year with good numbers found, especially in August and September. John Lovatt reported large numbers gathered near the Wexford coast in late October in preparation for the move south. Some remain here with eggs, larvae and pupae being recorded late and early in the year.
Despite dull and often wet weather July saw good numbers of Ringlets and Meadow Browns, but the numbers of Blues were down, especially the Holly Blue. Silver-washed Fritillaries and Dark Green Fritillaries were also seen in high numbers, especially in their strongholds, such as the Burren and The Raven. Wall Brown numbers continued to be low with a peak total of 10 recorded in the Burren on the 30th of May. Small and Essex Skippers continue to thrive on a site in County Kildare and Essex Skippers were found in good numbers in South Wexford. The other recent arrival, the Comma was seen in Dublin and Wexford. Numbers of Small Heaths and Speckled Woods held up well, but there were few records for Large Heath.
In August, plenty of Graylings were seen in the Burren, as were good numbers of Brown Hairstreak, despite the generally wet weather the dominated the month. The Small Tortoiseshell had a good second brood, with peak numbers recorded in September. Large and Small Whites had a good year with good numbers in both the May brood and the August/September generation. The Marsh Fritillary also enjoyed a good autumn, with 81 larval webs counted in Pollardstown Fen in October by the Harding family and Michael Jacob.
Lullybeg Reserve Report
Detailed counts began at Lullybeg in 2006 but the establishment of a transect walk over part of the site means butterflies are counted systematically 26 times a year from the first week in April to the last week in September, inclusive. A total of 20 butterfly species were recorded on the site in 2009. An overall total of 974 adult butterflies were counted. The species recorded with figures is as follows:
Green-veined White=64
Large White=3
Small White=14
Cryptic Wood White=6
Orange-Tip=15
Brimstone=34
Common Blue=37
Small Copper=10
Dingy Skippers=11
Ringlet=70
Wall Brown=1
Speckled Wood=24
Meadow Brown=144
Small Heath=115
Red Admiral=63
Small Tortoiseshell=54
Painted Lady=70
Peacock=165
Marsh Fritillary=73
Dark Green Fritillary=1
The species that caused great concern as we faced into 2009 was the Marsh Fritillary. Severe flooding in August 2008 resulted in the loss of all the Marsh Fritillary larval nests along the banks of the Crabtree River. Happily, the totals of Marsh Fritillary butterflies seen in May and June were in line with numbers seen in 2008.This autumn a total of 29 larval nests [webs] were found on the site. This compares with only 12 in March 2009 [following the August 2008 floods] and 28 larval nests found in February 2007. The most interesting development occurred following scrub clearance carried out by Jesmond Harding, John Lovatt and Michael Jacob on the two largest areas of open grassland north of the Crabtree River. In the grassland clearing closest to the river a dramatic increase in the number of larval nests recorded has occurred: in spring 2007 there were 6 nests here but in the spring of 2008 there were 12 nests here. In spring 2009 there were 12 nests here. In the most northerly clearing, only 1 or 2 larval nests were recorded between 2007 and spring of 2009. In autumn 2009, 6 nests were found. The only change that can account for these increases is the removal of birch/willow scrub that allows light to reach the grassland. In order to develop Marsh Fritillary larvae need a great deal of sunlight, especially from the end of January to the end of March. Finally 2 moth highlights at Lullybeg include the continued presence of the very local Narrow-bordered Bee Hawkmoth and the rediscovery of the rare Forester Moth last seen here in 2006.
Congratulations and thanks to everyone who assisted in this vital conservation work. Thanks also to Bord na Móna for their continued interest in our project. The recent exhibition held in honour of Bord na Móna's 75th anniversary included the production of a commemorative booklet ["Heartland"], which mentions the partnership between Butterfly Conservation Ireland and Bord na Móna in managing the Lullybeg site. The Bord na Móna in-house publication also featured details of our project.
Future Plans
It is hoped to print the leaflet we produced in order to increase our membership. We also need a website to publicize our work. John Lovatt is looking into this idea. It is also planned to erect an electric line around part of the site to introduce light cattle grazing, to prevent the sward becoming rank. Any donations towards the cost of this will be gratefully received. It is planned to bring leaving certificate biology students preparing for their ecology study to study the Lullybeg site [they are covered by the school's insurance]. The transect counts and selective scrub removal will be ongoing. Finally, it is proposed to hold butterfly walks on various sites throughout the country, especially in Kildare, Wexford and Clare. If there is any other activity you would like to see included or be involved with please contact me with details at the address shown below.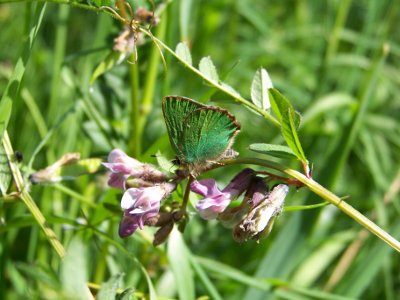 Green Hairstreak                    Photo: J Harding
Butterfly Conservation Ireland
Company Limited by Guarantee
Registered in Ireland number 451571
Charitable status CHY 18 161
Head Office
Butterfly Conservation Ireland,
Pagestown,
Maynooth,
Co. Kildare
Email: conservation.butterfly@gmail.com
Tel: 01 628 9901